Find A Grave Reviews



| | |
| --- | --- |
| Editor's Overall Rating: | |
| Average User Rating: | |





« Back to all the Find A Grave User Reviews
15 November 2017
Reviewer: Eddie Donlin from Cincinnati, Ohio
36 of 65 people found this review helpful
| | |
| --- | --- |
| Search Effectiveness: | |
| Ease of Navigation: | |
| Features: | |
| Technical Support: | |
| Help Files / Documentation: | |
| Ease of Joining / Registration: | |
| Value for Money: | |
| Overall Star Rating: | |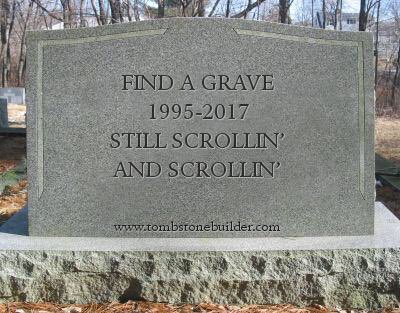 Find A Grave recently "upgraded" their website. It's filled with intrusive pop-ups. The infinite scrolling is not for the weak. It's labor intensive and just plain annoying. If you have mobile device you should just turn away now. The pages are so sprawled out and you have to click (see more) scroll. Click (see more photos) the pictures are now grainy unless you click 3 times to see the original.
Typing out a location is a test of patience. Have you seen the sloth commercial for geico? Think of that.
Find A Grave literally took everything good about the site and wiped it out. (Planned Chaos?) it seems so.
I could continue with negatives but the review would be too long. They have effectively shut down all conversations on social media detailing how bad it is.

In summary, I would not recommend Find A Grave to a friend.
Was this review helpful? Yes or No
« Back to all the Find A Grave User Reviews
Comments on this Review
comments powered by
» Click here to visit FindAGrave.com
or
« Back to the rest of our Genealogy Sites Reviews
Advertisements