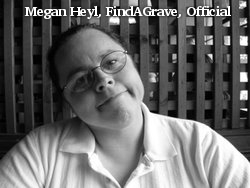 FindAGrave lures unsuspecting individuals 2 their site with the promise they can create 4 free a virtual memorial in memory 4 a special loved 1. After the memorial is completed it is taken over by Megan Heyl or Valencia Huberdick, official FindAGrave mangagers or numerous other staff.
(I only mention these two because they have titles and have been there 10 years or longer and there is consistency with the routine.)
Once taken over Megan Heyl and staff copy the data often adding 2 it with material swiped from the net - marriages, divorses, ex spouses, children biological or otherwise and time sensative data they may have stumbled on - driving record, jail time, bankruptcies, photos, Facebook posts - that sort of thing.
Once all the data is compiled it is catalogued then sent off to Salt Lake and used for a variety of things - mostly marketing but also sent to the Mormon Church.where the dead r
rebaptized into the Mormon Church.
FindAGrsve is a subsidiary of the Mormon Church. They take this very seriously. If u don't like it u r banned..Very little u can do. U accepted their invitation to create a free Memorial. They just didn't tell u what u forfeited if I accepted the offer